Int'l Youth Day 2021: Ekwerekwu to Speak at Youth Innovation Conference in Delta
By Fidelis Onakpoma
A renowned entrepreneur and grassroots mobilizer of Nigerian Youths for a better Nigeria; Hon. (Comr.) Wilson Ekwerekwu to inspire youths at the United Nations International Youth Day 2021 organized by Pax Bonum Foundation for the Needy in Delta State. The affirmation was contained in a statement issued by Hon. Ekwerekwu Press Officer; Fidelis Onakpoma, to newsmen in Government House Asaba Delta State.
You would recall that August 12th was designated by the United Nations to observe the youth day. The Statement averred the theme of 2021 International Youth Day is "Transforming Food Systems: Youth Innovation for Human and Planetary Health". The choice of the theme is aimed to advocate that the success of such a global effort will not be achieved without the meaningful participation of young people.
He said it has been acknowledged that there is a need for inclusive support mechanisms that ensure youth continue to amplify efforts collectively and individually to restore the planet and protect life while integrating biodiversity in the transformation of food systems. He added that important steps are unavoidably needed to uphold youths' participation in global sustainability.
Speaking further, Fidelis unveil the Citation of Hon. Wilson Ekwerekwu which reads:
-CEO of Wilson Code9 Global International (a leading brand in the Africa Fashion Industry)
-the Anambra State Coordinator Atiku Support Organization
-an International Human Rights Activist.
While intensifying the choice of Ekwerekwu as a Speaker in the Conference, Fidelis attributed it to his commitment to nation-building, innovation, and the development of ideas, which has been sustained over time by empowering many young Nigerians in transcending in their businesses.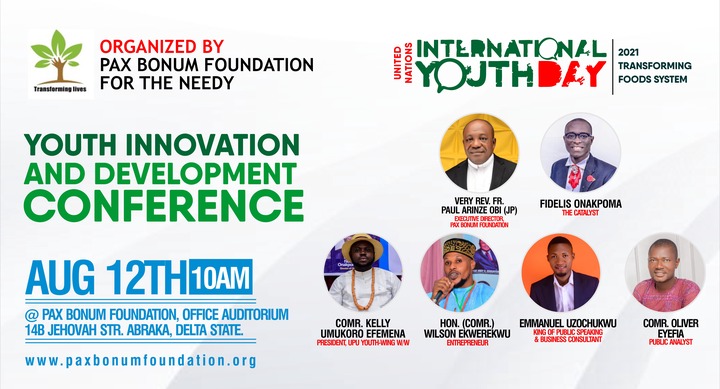 As a global entrepreneur and rights activist, Ekwerekwu will help address crucial challenges such as the interlinkages embodied by the 2030 Agenda including poverty reduction; social inclusion; health care; biodiversity conservation; and climate change mitigation.
"The event will convey youths in partnership with Delta State University with the strategy to provide youth education, engagement, innovation, and entrepreneurial solutions, hinged to help young people to continue to uphold momentum in global efforts", he added.